Posted by

DeBerry Insurance Agency

on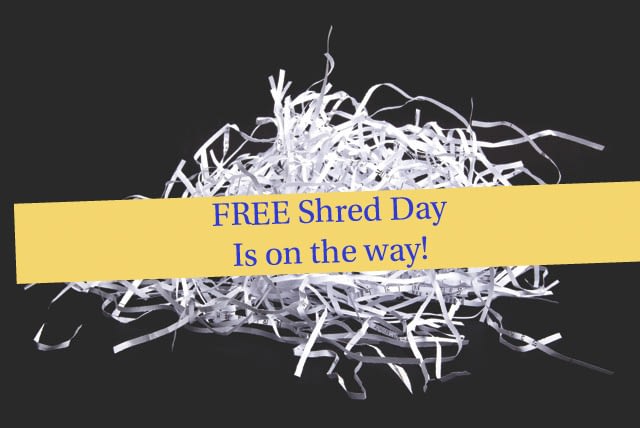 DeBerry Insurance Agency's 4th Annual Free Shred Day Event and Food Drive for The Well Outreach will take place on Saturday, April 13th. The event will take place at DeBerry Insurance Agency, 5232 Main Street in Spring Hill. A Shred-It Truck will be on site from 10 AM to 2 PM.
To date, DeBerry Insurance Agency has collected nearly ten tons of paper for recycling through their Free Shred Day event. The amount of paper recycled has saved over 100 trees from being used to make paper.
"Each year, we are blown away by the participation from the community," said Chris DeBerry, Owner of DeBerry Insurance Agency. "We are thankful to be able to offer this needed service again this year."
The Shred-It Truck will provide a secure and convenient way to properly discard of identifying papers. Documents are shredded on site. No pre-registration is needed to participate. Anyone with documents or papers to shred is welcome to come by during the event to drop them off.
"Properly discarding identifying papers is critical in preventing identity theft, a growing problem for individuals and businesses," said Eric DeBerry, Owner of DeBerry Insurance Agency. "We host this event during tax season when many people are organizing their records for the year. Our Free Shred Day event will offer a convenient and secure way to dispose of documents and any other paper. Plus, it is environmentally friendly as all the papers collected are recycled. We invite everyone to come by and take advantage of this service!"
During the Free Shred Day event, DeBerry Insurance Agency will also be collecting food donations for The Well Outreach. The agency has collected several hundred pounds of food for The Well as part of their annual Free Shred Day event. Food donations are not required for participation in the Shred Day event, but they are appreciated. Highly needed food items for The Well's food pantry currently include: pancake mix, syrup, boxes of stuffing, cereal, canned oranges, Ramen noodles, Jiffy cornbread mix, Chicken Helper meals, canned carrots, baked beans, pork and beans, salad dressings, variety pack oatmeal, 5-ounce cans of tuna, cream-style corn and canned chicken.
"We are thankful to be able to include an opportunity for the community to donate items to The Well in coordination with our Shred Day event," said Chris DeBerry. "We are looking forward to partnering with The Well again this year!"
DeBerry Insurance Agency provides comprehensive insurance packages for individuals and businesses. A licensed insurance expert from DeBerry Insurance Agency can personally work with you to find the coverage options that are right for you. For more information about DeBerry Insurance and the Free Shred Day event, visit www.DeBerryInsurance.com or call (931) 486-3300.
Filed Under: Blog, Event, Insurance News
|
Tagged With: Shred Day