Posted by

DeBerry Insurance Agency

on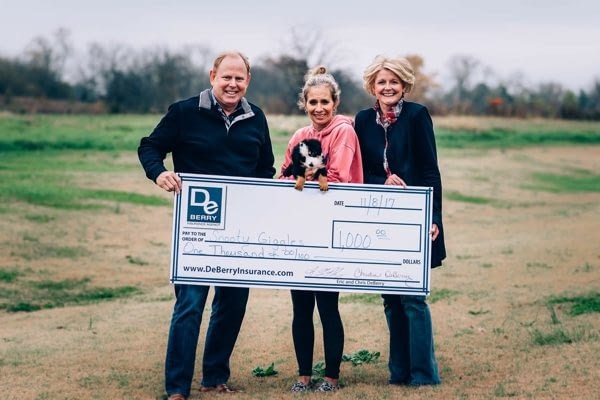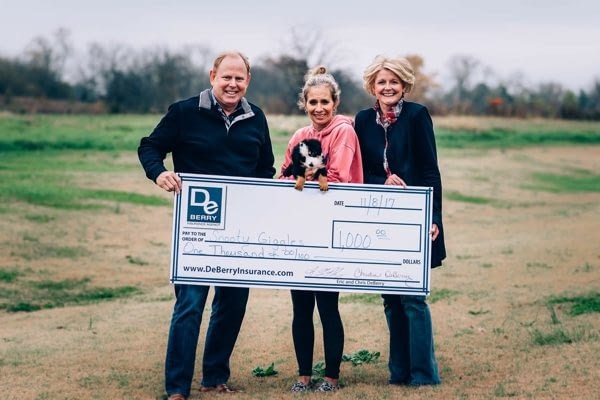 DeBerry Insurance Agency proudly presented a donation of $1,000 to support Snooty Giggles Dog Rescue on Wednesday, November 8. The donation came at the close of a Facebook campaign the agency hosted over the summer in celebration of the DeBerry's beloved pup, Murphy's, 16th birthday.
"Our agency pledged $1 for every 'like' to our Facebook page during Murphy's birthday month," said Chris DeBerry, Owner of DeBerry Insurance Agency. "We were overwhelmed by the support of the campaign and well-surpassed our goal of 500 new likes!"
In honor of the success of the campaign, The DeBerrys decided to match their original pledge goal of $500 and donate a total of $1,000 to Snooty Giggles.
"We made the donation in memory of Murphy, who we sadly lost a couple of months ago," said Chris. "Murphy meant so much to so many. Since Snooty Giggles helps dogs, many of whom are in their golden years as Murphy was, the donation was even more meaningful to us."
The idea to support Snooty Giggles was planted soon after the DeBerrys first learned about the mission of the organization.
"When we first learned about Snooty Giggles Dog Rescue, we were instantly in love with the mission of this organization!" said Chris. "We were even more excited to learn that the rescue has its home in Thompson's Station, just a few miles from our agency."
Snooty Giggles was founded in 2007. The rescue began as a grass-roots effort when founder Shawn South-Aswad and her husband began taking in a few dogs at a time. Their original goal was to give dogs in need a "place to lay their heads" until a forever home could be found for them.
Today, Snooty Giggles has a vast network of foster families who take in dogs – many from area shelters – and help them learn to succeed as pets. When they are ready for adoption, the dogs are then matched with carefully chosen families to ensure that they can live a long and happy life. The rescue aims to "raise the dogs like their own" until the perfect match of a forever home is found.
Though the Snooty Giggles Rescue team has a passion for rescuing medical cases, special needs dogs and seniors, they take in dogs of all ages (healthy or not), dependent on foster home availability.
"We are very thankful to Shawn and the Snooty Giggles team for welcoming us for a photo session and check presentation where we got to meet one of the rescue puppies," said Eric DeBerry, Owner of DeBerry Insurance Agency. "It was very meaningful to see how our contribution can help dogs in need. Murphy was – and is – so close to our hearts. We can speak first-hand to how a pet can give back so much to a family. We hope our donation will help many other dogs find happy homes!"
More information about Snooty Giggles Dog Rescue can be found on their website, snootygiggles.com. You can also "like" and "follow" them on Facebook to learn more about the snooties available for adoption.
DeBerry Insurance Agency provides comprehensive insurance packages for individuals and businesses. A licensed insurance expert from DeBerry Insurance Agency can personally work with you to find the coverage options that are right for you. For more information about DeBerry Insurance Agency, call (931) 486-3300.
Filed Under: Insurance News